MPAtlas.org, a project of the Marine Conservation Institute, was launched in 2012 as a way to provide a more nuanced picture of global marine protection. Our goal is to clarify and visualize the level of protection and implementation of the world's MPAs. As countries around the world race to reach globally established levels of marine protection, it is important that these marine protected areas are fully implemented, managed and effective in achieving desired conservation benefits.
Marine protected areas, as defined by the IUCN is 'a clearly defined geographical space, recognised, dedicated and managed, through legal or other effective means, to achieve the long-term conservation of nature with associated ecosystem services and cultural values.'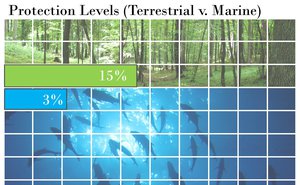 This definition, used in establishing the World Database on Protected Areas, provides flexibility to governments to define activities and levels of activity that are permissible to achieve long-term conservation. However, it also leads to a large over-estimate of areas that are 'protected' based on other MPA definitions that may restrict some damaging activities such as fishing, oil and gas development and extraction, as well as other activities. MPAtlas is designed to better reflect the actual protection level intended through designation of MPAs.
Many MPAs are multiple-use areas, where a variety of activities are allowed. These MPAs may provide partial protections for marine life through a single or a few protected species, gear restrictions, seasonal closures, catch limits, or other restrictions on use or extraction. For example, there are many different kinds of MPAs in US waters including: national parks, wildlife refuges, monuments and marine sanctuaries, fisheries closures, critical habitat areas, habitat areas of particular concern, state parks, conservation areas, estuarine reserves and preserves, and numerous others. Globally, while some sites exist as no-take marine reserves, the vast majority of MPAs, both in terms of numbers established and area covered, are open for fishing, diving, boating, and other recreational and commercial uses.
It is important to note that the information on MPAtlas.org is constantly being updated and it is dependant on feedback from our community for accuracy. We welcome feedback or additional information and can be reached at info@mpatlas.org. We also request that any use of, or citation of our data be time stamped. Thank you.