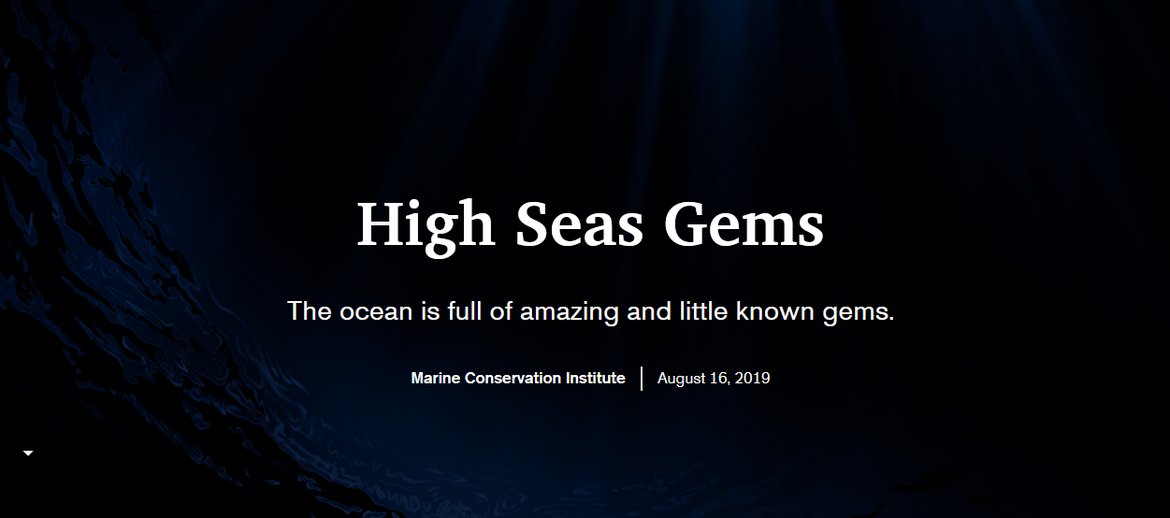 ​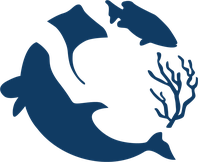 At the 2019 Our Ocean Conference, where representatives from nations around the world are gathered, Marine Conservation Institute will announce six new Blue Parks. These marine protected areas meet the highest science-based standards for biodiversity protection and best practices for management and enforcement. These fully and highly protected Blue Parks will make outstanding contributions to saving marine life for future generations.
Marine Conservation Institute celebrates Blue Parks for actively safeguarding the world's most valuable and biodiverse ocean habitats, sustaining marine biodiversity and increasing populations of marine life. Marine Conservation Institute's objective for the award is to bring special recognition to nations, decision makers and site managers who effectively protect their marine ecosystems and to incentivize better ocean protection worldwide. Our hope is that this network grows and inspires nations around the world to strongly protect 30% of the ocean's most important places by 2030.
As part of an ongoing effort to better define the amount and types of protection as country's work to meet their obligations to protect 10% of their ocean estate by 2020, the team at the Atlas of Marine Protection and our partners at the WDPA have been working with colleagues in the marine conservation community to create a more uniform set of terms and definitions. We want to help countries that meet these levels of protection ensure that they get the protection they intended when they undertake the hard work of creating MPAs. There are wide-ranging types of MPAs with various goals and expectations. Some MPAs allow no extraction, while others permit almost all types of extraction. Clearly the outcomes from one type will differ from another. Inconsistency in determining the amount of protection that exists can obscure real progress and distract attention from the overarching goal of achieving a healthy ocean and conserving biodiversity.
As a first step in this process, we have present the MPA Guide that standardizes the following terms around marine protected areas. The Atlas of Marine Protection team will be working this year to begin applying and reporting these refined terms as part of our protected area reporting.
Stages of Establishment
A system of four categories to characterize the stage of establishment and maintenance of any particular MPA:
a) PROPOSED/COMMITTED: The intent to create an MPA is made public, for example through a submission to the Convention on Biological Diversity or other instrument, conference announcement, official press release, or other official declaration. Visit our Tracker of Future Marine Protection
b) DESIGNATED: An MPA is specifically codified or dedicated through legally recognized means or authoritative rule. The MPA now exists 'on paper' and in law or other formal process.
c) IMPLEMENTED: An MPA transitions from existence on paper to being operational on the water, with concomitant management in place that aims to ensure compliance and enforcement. The MPA has a defined boundary, objectives and management strategy that reflect the primacy of conservation objectives (as per the IUCN definition of an MPA).
d) ACTIVELY MANAGED: An MPA has demonstrable and ongoing enforceable rules, monitoring, evaluation, adaptive management and conservation outcomes.
Levels of Protection
A simple method to categorize an MPA into one of four levels of protection of its biodiversity:
a) FULLY PROTECTED: no extractive or destructive activities are allowed, and all impacts are minimized.
b) HIGHLY PROTECTED: only light extractive activities are allowed, and other impacts are minimized to the extent possible.
c) LIGHTLY PROTECTED: some protection exists but moderate to significant extraction and impacts are allowed.
d) MINIMALLY PROTECTED: extensive extraction and other impacts are allowed while still providing some conservation benefit to the area.
READ MORE ABOUT THE GUIDE HERE.
​

​

"If we are to get to 10% of the ocean protected by 2020, we need to implement what has been committed, enact what has been suggested, and create new fully protected areas.  We also call on nations of the world to accelerate the creation, implementation, and enforcement of genuine protected areas within their exclusive economic zones and in the high seas."

- Malta Declaration, 2017
The team at the Atlas of Marine Protection (mpatlas.org) endeavors to track marine protection levels as commitments by countries to increase MPA coverage become due. Currently, many countries are working to reach 10% protection of their marine waters by 2020. Through our own third party research, we adjust the official MPA numbers reported by the World Database on Protected Areas (WDPA) to better track highly protected and fully implemented marine protected areas. We include newly proposed, committed, or designated areas within days of announcement, carefully tracking areas that are proposed or promised, areas that are legally designated but as of yet unimplemented on the water, and those areas that are fully implemented and in force on the water. The Atlas of Marine Protection numbers differ from official WDPA numbers but our numbers are based on the comprehensive numbers found at the WDPA (protectedplanet.net).
*Last comparison done in February 2020*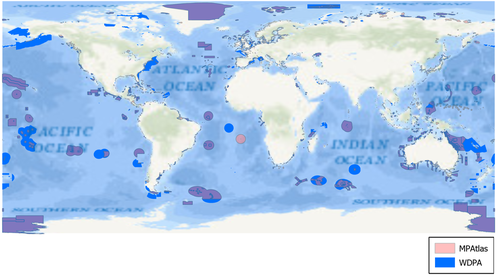 How Much of Our Ocean is Protected?
Today, only 5.3% of the world's oceans are protected in implemented and actively managed marine protected areas. Approximately half of that, or 2.5%, of the ocean is highly protected in no-take marine reserves.
---
---
Created as part of our work with the Deep Sea Conservation Coalition and the High Seas Alliance, check out our interactive map of high seas protection.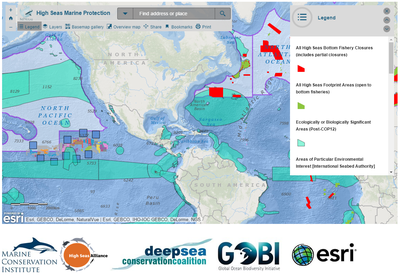 ---
As another year passes, little has changed with regard to marine protection in the United States, increasing the risk of falling behind while the rest of the world races to meet global conservation targets. Read more in our annual SeaStates report on US marine protection for 2019.